$499.00
Being supported by an highly developed and specialist IT group, we could supply technical support on pre-sales & after-sales service for Rapid Delivery for China IEC 62196-2 Electric Car Wall Charging Station with Type 2 Plug 7kw, Welcoming fascinated organizations to cooperate with us, we glance forward to obtaining the chance of working with organizations round the entire world for joint growth and mutual success.
Output Power: 7kW, 11kW, 22kW
Communication Protocol: OCPP 1.6J (2.0 compatible)
Input Current: 16A, 32A
Input Voltage: 230±10% (1 phase), 400±10% (3 phase),
RCD: Type A+DC6mA
IP, IK : IP65, IK08
External Communication: LAN+4G (Optional)+WIFI (Optional)
Display: 4.3″ LCD Screen (Touch Screen optional)
Cable Dimension: 350x250x175mm
Socket Dimension: 350x250x130mm
Description
We depend on sturdy technical force and continually create sophisticated technologies to fulfill the demand of Quots for China 7kw Type 1 Type 2 Fast Electric Cars Charging Station, "Change for the better!" is our slogan, which means "A better world is before us, so let's enjoy it!" Change for the better! Are you ready?
Quots for China EV Charging Station Manufacturer, Wall Box Type2 Type1 EV Charging Station, With the principle of win-win, we hope to help you make more profits in the market. An opportunity is not to be caught, but to be created. Any trading companies or distributors from any countries are welcomed.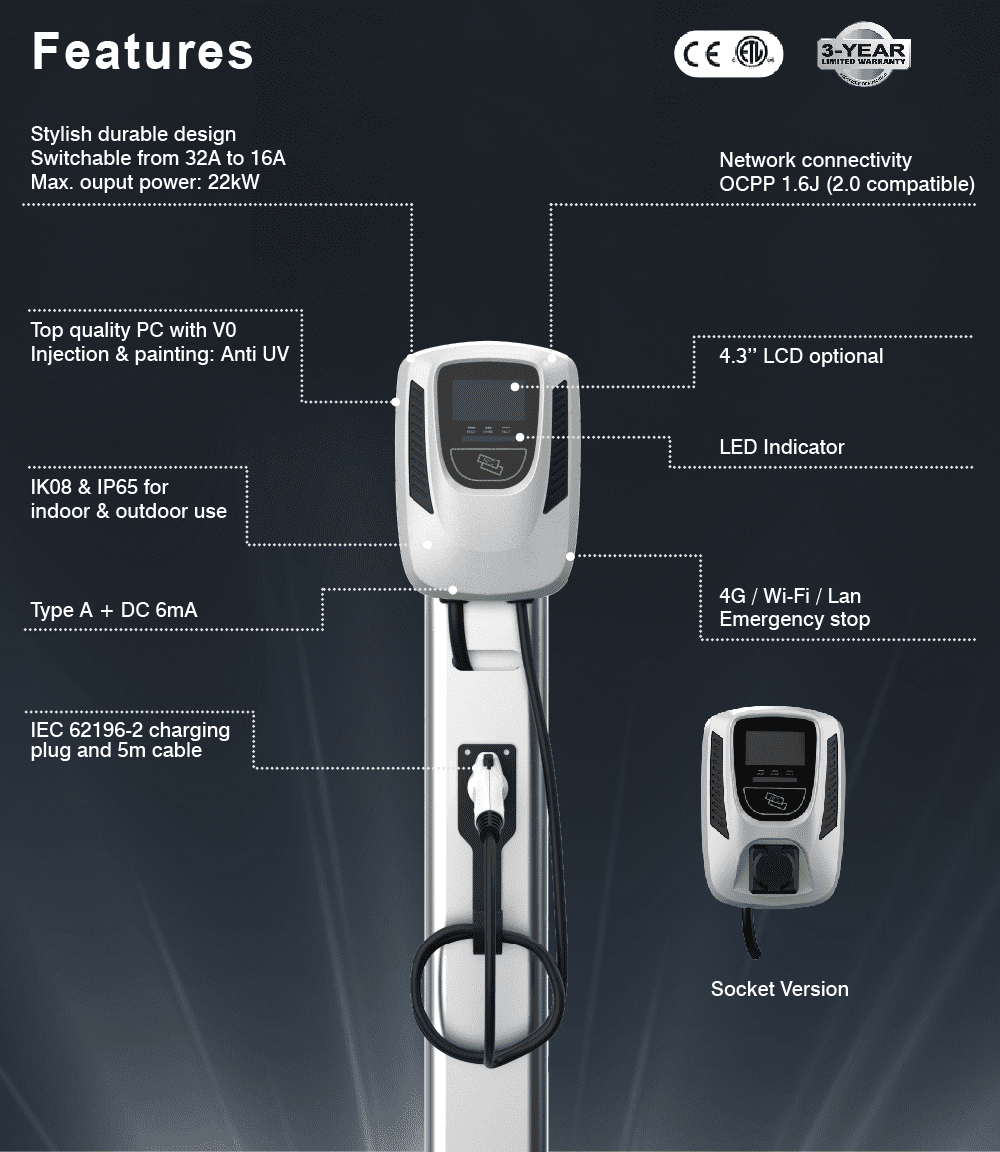 JNT-EVC10 Series
Model Name
EVC10-07C1S
EVC10-07C1C
EVC10-22C1S
EVC10-22C1C
Input Voltage

230±10% (1 phase)

400±10% (3 phase)

Frequency

50Hz

Input Current
32A
Output Current
32A
User Authentication

RFID (ISO 14443)

External

LAN (optional) + 4G (optional) or Wi-Fi (optional)

Internal

OCPP 1.6 JSON (OCPP 2.0 compatible)

Operating Temperature

-22˚F~122˚F(-30˚C~50˚C)

Humidity

Max. 95% RH

Altitude

≦ 2000m

IP Level

IP65 for box

Cooling Method

Natural Cooling

Dimension(WxDxH)

350x250x175mm

350x250x130mm

350x250x175mm

350x250x130mm

Charging Outlet

One Charging socket

5m charging cable
One Charging socket
5m charging cable
CCID

Type A + DC6mA

Multiple Protection

Over current, Under voltage, Over voltage, Residual current, Surge protection,
Short circuit, Over temperature, Ground fault, Current leakage protection

Certificate

IEC 61851-1, IEC61851-21-2

Safety

CE

Wireless Certificate

RED

Charging Interface

IEC 62196-2, Type 2 Plug
The most compact design on the market with the highest performance, intelligent charging system for plug-in vehicles, designed for semi public and business charging locations. Easy to install, easy to use and easy to enjoy.
It is a new and improved second generation design, incorporating internal leakage protection. Which make installation easier and more economical. The charger connects with management platform, which makes it smart and enables multiple user access with a simple RFID card or Wallbox mobile app.
Personalised support service: Dimensions 350x250x175mm. 4.3″ untouchscreen with custom interface and adjustable charging power from the display. Can set up up to four different recharging schedules to coincide with lower energy costs.