$499.00
Discover how the innovative products from joint can benefit home, workplace, and other public spaces. Fast reliable charging is perfect for all EV. Utilizing the universal J1772 plug the electric vehicle chargers work with all EV & Plug-In Hybrid's in the United States & Canada. Including popular models like, Chevy Bolt, Nissan Leaf, Ford Fusion, BMW i3, Chevy Volt, Toyota Prius, Chevy Spark, Jaguar I-Pace and Audi e-tron. Even Tesla using its standard adapter.
FOB Price: US $370 – 499 / Piece
Min.Order Quantity: 100 Piece/Pieces
Supply Ability: 10000 Piece/Pieces per Month
Certificate: ETL
Output Power: 3.6kW, 7.6kW, 9.6kW, 11.5kW
Communication Protocol: OCPP 1.6J (2.0 compatible)
Input Current: 16A, 32A, 40A, 50A
Input Voltage: 240±10%
RCD: CCID20
IP, IK : IP65, IK08
External Communication: LAN+4G (Optional)+WIFI (Optional)
Display: 4.3″ LCD Screen (Touch Screen optional)
Cable length: 18ft (25ft optional)
Cable Dimension: 350x250x175mm
Description
EV Charger Station Features:
Model Name
EVC10-03C1C
EVC10-07C1C
EVC10-09C1C
EVC10-11C1C
Input Rating

200-240Vac

Frequency

60Hz

Input Current
16A
32A
40A
48A
Output Current
16A
32A
40A
48A
User Authentication

RFID (ISO 14443)

External

LAN (optional) + 4G (optional) or Wi-Fi (optional)

Internal

OCPP 1.6 JSON (OCPP 2.0 compatible)

Operating Temperature

-22˚F~122˚F(-30˚C~50˚C)

Humidity

Max. 95% RH

Altitude

≦ 2000m

IP Level

IP65 for box

Cooling Method

Natural Cooling

Dimension(WxDxH)

350x250x130mm (13.8″x9.8″x5.1″)

Charging Outlet

18ft charging cable(25ft charging cable optional)

CCID

CCID20

Multiple Protection

Over current, Under voltage, Over voltage, Residual current, Surge protection,
Short circuit, Over temperature, Ground fault, Current leakage protection

Certificate

UL2594, UL2231-1/-2

Safety

ETL

Wireless Certificate

FCC

Charging Interface

SAEJ1772
Reservation
To avoid peaks and save on charging costs, you can reserve a charging time to charge the car when the electricity price is the cheapest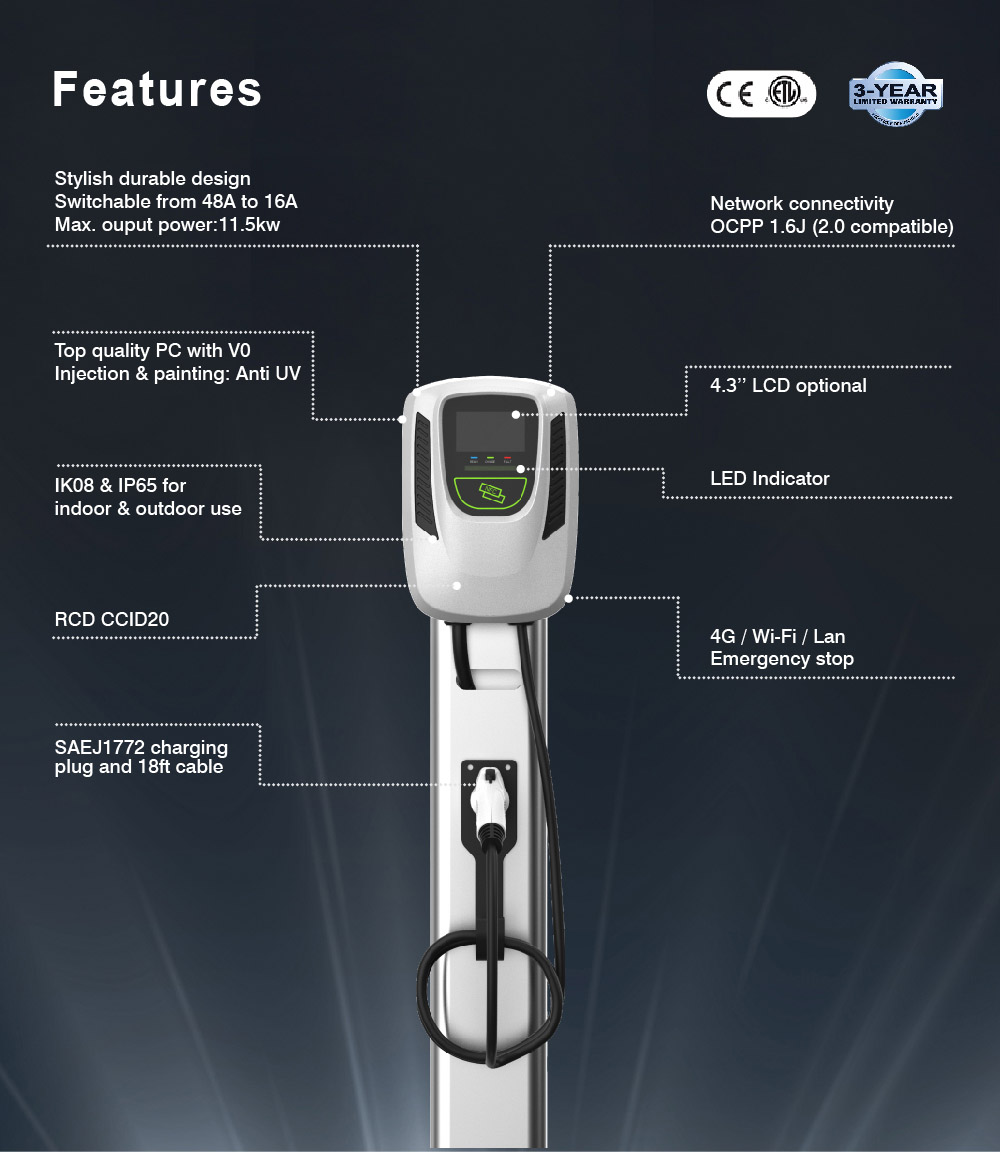 Large LCD and long cable:
4.3″ LCD to display all the car's data on the charging station during charging. Can see the state of charge, including current, voltage and temperature. The screws are fit into the box so don't have to worry about the screen falling. The 5-meter cable leaves enough space between your car and the charging station.
Balance and safety:
The station has a power leveler that balances the station when the multi electric device is in operation.
Thus the station can operate under a constant current, avoiding the break and other safety hazards caused by the current instability.
High compatibility:
All our products are ETL and CE, the quality is trustworthy. Our EV charger is compatible with most electric vehicles that comply with the SAEJ1772 or IEC 62196-2 standard.