$499.00
Monophase 32 amp with output 7kW mode 3 electric vehicle charging station is perfect for any location. The Type 2 (IEC 62196) socketed and cable unit is compatible with all vehicles. With an IP65 waterproof/dust rating you can rest easy leaving car charging overnight even in the rain. The units are made from a hard wearing polycarbonate from Japan. It comes with a built in 30 Amp and DC6mA to give overload and fault current protection.
Output Power: 7kW, 11kW, 22kW
Communication Protocol: OCPP 1.6J (2.0 compatible)
Input Current: 16A, 32A
Input Voltage: 230±10% (1 phase), 400±10% (3 phase),
RCD: Type A+DC6mA
IP, IK : IP65, IK08
External Communication: LAN+4G (Optional)+WIFI (Optional)
Display: 4.3″ LCD Screen (Touch Screen optional)
Cable Dimension: 350x250x175mm
Socket Dimension: 350x250x130mm
Description
We emphasize advancement and introduce new products into the market each year for factory Outlets for China Ocpp Type 2 Fast EV Charging Station with Ce CB SGS, Our merchandise are widely recognized and trustworthy by users and can satisfy continuously changing economic and social needs.
factory Outlets for China EV Charging Station Manufacturer, Wall Box Type2 Type1 EV Charging Station, To keep the leading position in our industry, we never stop challenging the limitation in all aspects to create the ideal products. In his way, We can enrich our life style and promote a better living environment for the global community.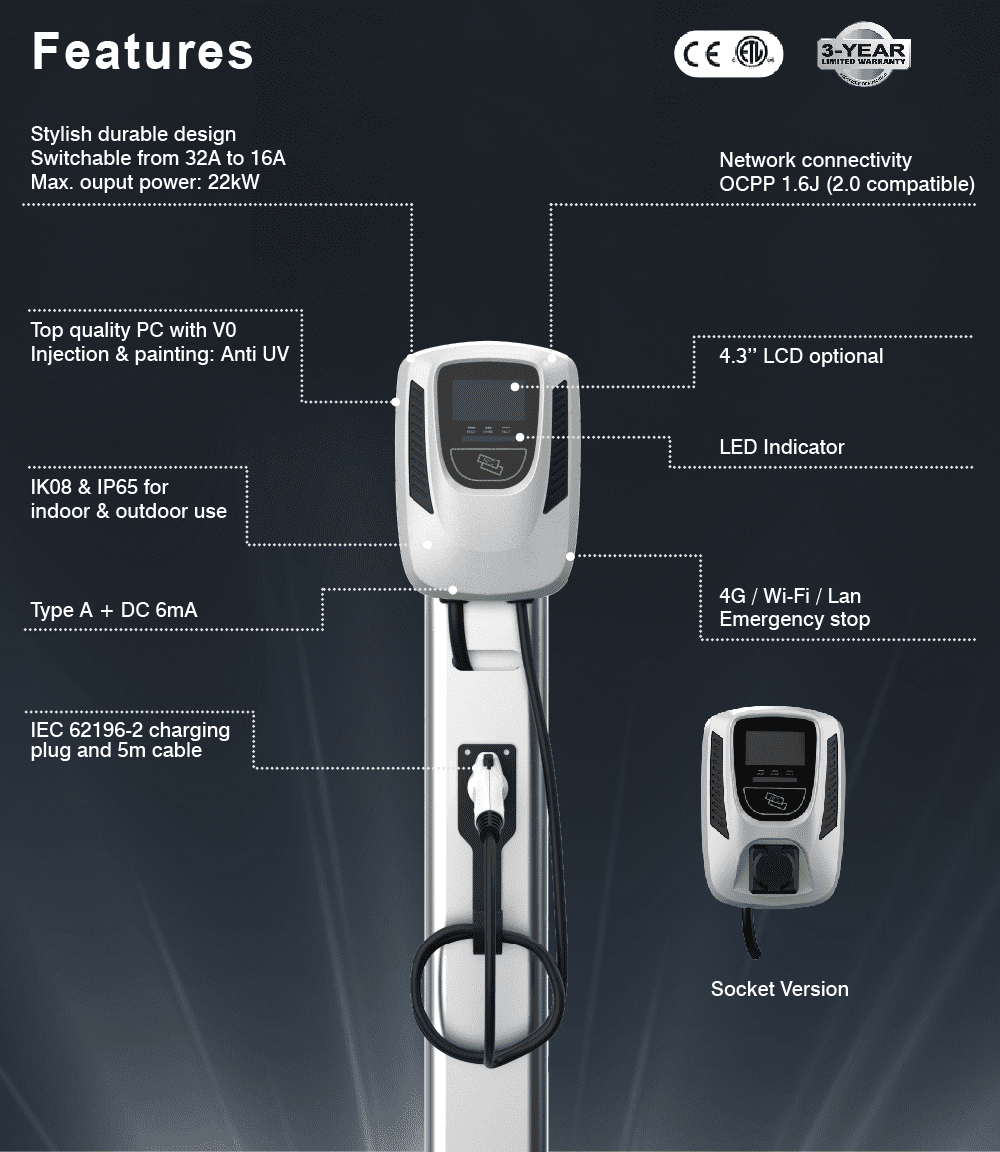 JNT-EVC10 Series
Model Name
EVC10-07C1S
EVC10-07C1C
EVC10-22C1S
EVC10-22C1C
Input Voltage

230±10% (1 phase)

400±10% (3 phase)

Frequency

50Hz

Input Current
32A
Output Current
32A
User Authentication

RFID (ISO 14443)

External

LAN (optional) + 4G (optional) or Wi-Fi (optional)

Internal

OCPP 1.6 JSON (OCPP 2.0 compatible)

Operating Temperature

-22˚F~122˚F(-30˚C~50˚C)

Humidity

Max. 95% RH

Altitude

≦ 2000m

IP Level

IP65 for box

Cooling Method

Natural Cooling

Dimension(WxDxH)

350x250x175mm

350x250x130mm

350x250x175mm

350x250x130mm

Charging Outlet

One Charging socket

5m charging cable
One Charging socket
5m charging cable
CCID

Type A + DC6mA

Multiple Protection

Over current, Under voltage, Over voltage, Residual current, Surge protection,
Short circuit, Over temperature, Ground fault, Current leakage protection

Certificate

IEC 61851-1, IEC61851-21-2

Safety

CE

Wireless Certificate

RED

Charging Interface

IEC 62196-2, Type 2 Plug
Feature:
The most compact design on the market with the highest performance, intelligent charging system for plug-in vehicles, designed for semi public and business charging locations. Easy to install, easy to use and easy to enjoy.
It is a new and improved second generation design, incorporating internal leakage protection. Which make installation easier and more economical. The charger connects with management platform, which makes it smart and enables multiple user access with a simple RFID card or Wallbox mobile app.
Personalised support service: Dimensions 350x250x175mm. 4.3″ untouchscreen with custom interface and adjustable charging power from the display. Can set up up to four different recharging schedules to coincide with lower energy costs.